The first quarter of 2018 has presented challenging and uncertain times for business leaders and organisations, and this trend looks set to continue.
An unsettled global outlook, ongoing debates on trade and investment, heightened ethical and regulatory responsibilities, the #MeToo and #TimesUp campaigns, and increased cyber attacks combine to create a shifting reputational risk environment. The above pose significant issues for organisations.
The recent avalanche of personal and reputational crises that have played out is a direct result of activism and societal shifts related to social licence.
It's little wonder business leaders are being kept awake at night.
Ethical responsibilities and regulatory changes will continue to play a big challenge for businesses and government, due to a major shift in the risk environment – one of the key findings identified in SenateSHJ's Reputation Reality 2017: Trans-Tasman perspectives on reputation and risk report. Forty-six per cent of Australian and twenty-eight per cent of New Zealand companies surveyed identified ethics and social governance as major triggers for reputational risk. In particular, the emergence of somewhat newer, and sometimes misunderstood, risks such as data privacy, cyber security, media activism and sensationalism will also pose significant and pressing challenges for organisations.
A similar finding was highlighted in PwC's recent 21st CEO Survey, with New Zealand and Australian business leaders identifying cyber threats and over-regulation as two of the biggest threats to business growth, a sentiment also shared globally.
Mark Averill, CEO and a senior partner at PwC New Zealand, says in the report, "CEOs are clearly getting up to speed on digital and technology, but the fact cyber attacks are the top risk to growth shows how vulnerable New Zealand organisations are."
In a recent Global Cyber Risk Perception Survey conducted by Marsh and Microsoft Corp., 60% of the survey's New Zealand respondents said that cyber incidents were in their top five risks, with only 22% highly confident in managing, responding and recovering from a cyber incident.
Marsh Head of Specialities, Fred Boles, said, "Cyber risk is a topic that has been talked about for some time given our increasing dependence on technology. It is therefore surprising that many organisations are still unaware what their cyber risks are including the risks that suppliers pose."
What is clear is the growing awareness among business leaders of the increasing risks to their business and reputation in an ever-changing and increasingly complex business and political environment.
But despite this growing appreciation of the need to invest in corporate reputation, what is worrying is there appears to be a widespread lack of confidence in being able to manage a crisis. Our research indicates actions are not backing up beliefs and many organisations are not 'walking the talk'. We are seeing a 'crisis of confidence' with business leaders in navigating this challenging risk environment.
Only one in three respondents in New Zealand, and one in four in Australia, have high confidence in their ability to implement their crisis communications plans.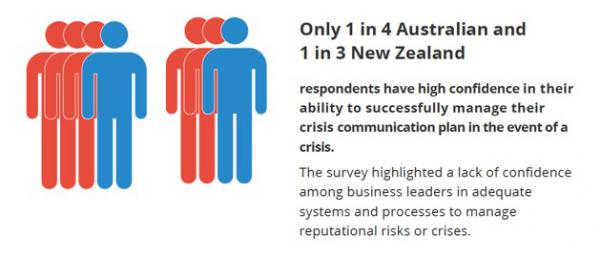 This creates a degree of exposure and vulnerability, often resulting in adverse business and reputational consequences.
Responding to these shifts in the risk environment will require organisations to take proactive risk management measures, and adopt rigorous crisis and issues planning, to navigate challenging and often unpredictable internal and external environments.
Those that adapt and are resilient to this challenging business environment, and who put in place systems and processes to mitigate emerging new risks, will be better placed to manage their reputation. Those who ignore them run the risk of being left behind – and worse still, a very public fall from grace.